Montreal
Coats of Arms, Flags and Logos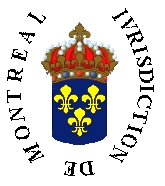 Seal of Montreal, New France
Circa 1700-1730
The area of New France now known as Quebec was originally divided into three central administrative regions. They were Quebec City, Trois-Rivières, and Montreal. The original seal of Montreal is shown above. It is based on the coat of arms of the Kingdom of France (prior to the French revolution). The words "Ivrisdiction de Montreal", translated as "Jurisdiction of Montreal", circled the seal.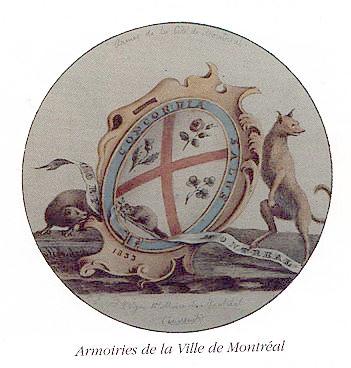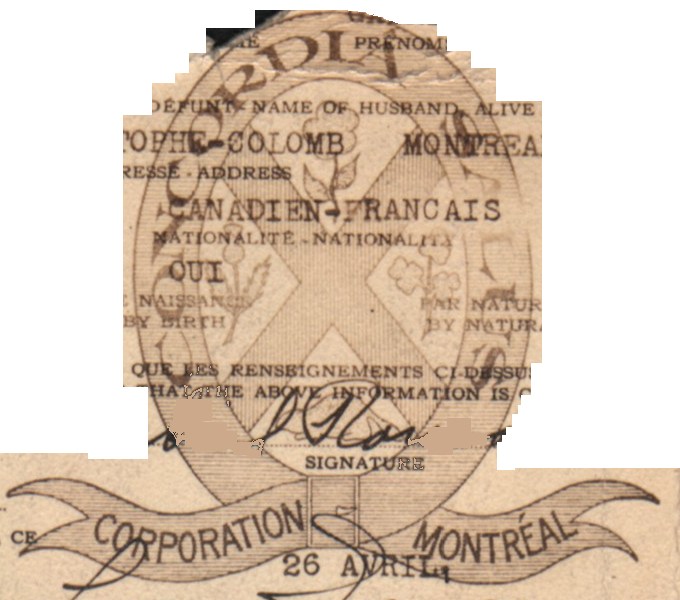 Montreal Coat of Arms (1833-1938)
Montreal's coat of arms was designed by its first mayor, Jacques Viger, after his election in 1833. Luc Baronian's website (Vexillology of the region of Montreal) contains a copy of the original design taken from an old election voter's card. The first arms were similar to the one used by Montreal today. The shield was divided by a red X-Cross (saltire gules as described in heraldry). In each one of the divisions was a symbol representing the four groups which helped found the city: a rose for the English, a shamrock for the Irish, a thistle for the Scottish, and a Canadian beaver for the French. The adopted motto was "CONCORDIA SALUS" which means salvation through harmony and could be interpreted as the success of the city being based on the mutual cooperation of all four major groups in the new city.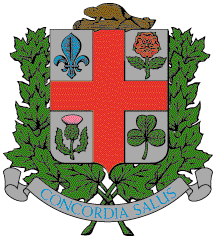 Montreal Coat of Arms (1938-Present)
According to the official website of Montreal, the arms were revised in 1938 and are still in use today. The X-Cross was changed to a straight cross and the Canadian beaver replaced with a fleur-de-lys to represent the French. The beaver was moved to the top of the shield. Instead of representing the French, the beaver is said to now represent the labour and hard work of Montrealers to develop the city. The motto remains unchanged.


Flag of Montreal
The flag of Montreal was first raised in 1939. It is based on the 1938 revised coat of arms. According to a posting on the "Flags of the World" website by David Prothero, the cross on the flag resembles the cross of Saint George from the English flag to commemorate a visit to the city by King George VI in the same year it was introduced. I have not confirmed this myself yet though.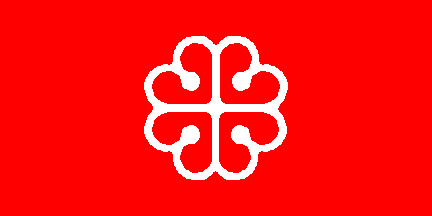 Montreal City Logo
In 1981, the city adopted a simplified logo to place on its public buildings, utilities and vehicles. A flower was created out of the VM initials of the city, "Ville de Montreal". The flower is reflective of the flower symbology on the city's coat of arms. Each one of the four petals is also in the shape of a heart which represents the love that Montrealer's have for their city.

References:
Bizier, Hélène-Andrée / Paulette, Claude 1997. FLEUR DE LYS D'HIER À AUJOURD`HUI., Montréal,QC:Éditions Art Global.
Websites:
Montreal Official Website: http://www2.ville.montreal.qc.ca
Flags of the World Website: http://www.fotw.net
Vexillology of the region of Montreal: http://www.stanford.edu/~baronian/vqaf/06.html
Montreal Coat of Arms (1833-1938)
Montreal Coat of Arms (1833-1938) Voter Card Photo from:
Louis Rousseau/Luc-Vartan Baronian
Montreal Coat of Arms (1938-Present) Graphic by: Robert Alfers
Montreal Flag Graphics by: Luc-Vartan Baronian
Text and "Seal of Montreal, New France" Graphic by: Ben Koorengevel