LaSalle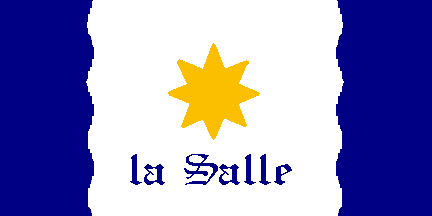 Flag of LaSalle
Ville LaSalle, located in the lower mid-western half of the island, was named after Robert René Cavelier de LaSalle. The eight-pointed star in the flag was taken from his family coat of arms. The wavy blue lines symbolize the Saint Lawrence River, the Lachine Rapids and the canal that passes through the former town.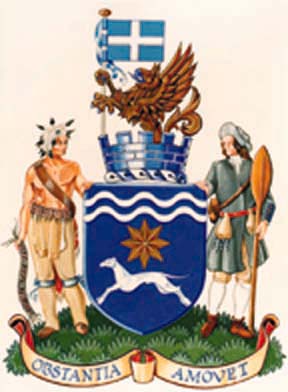 LaSalle Coat of Arms
The following is an extract from the City of Montreal website which describes Ville LaSalle's coat of arms and its symbology:
"The coat of arms - that insignia, with its richly symbolic nature, identifying the history, geography and personality of a nation - recalls so many memories near and dear to the hearts of LaSalle residents.
The azure blue and barrulets marked with wavy silver lines evoke the St. Lawrence River, with its Lachine Rapids and Canal.
The silver greyhound and the golden eight-pointed star come from the coat of arms granted to Robert René Cavelier de LaSalle in 1710.
The griffin - a mythical animal - brings China to mind, because the parish of Lachine was named after that country.
The flag is the age-old mark of the French merchant marine.
The "coureur de bois" represents LaSalle's historical heritage - one of the prime movers of the fur trade.
And lastly, the Iroquois is a reminder of a tragic event in the history of LaSalle. He is wearing a wampum belt, a symbol of reconciliation with the past.
LaSalle's coat of arms is in keeping with the requirements of heraldry and it is the Governor General of Canada who presented it to the City's Mayor in 1992.
The motto Obstantia Amovet,which is marked under the coat of arms, means: "He pushes away the obstacles and casts aside the difficulties."
Flag Graphics by: Luc-Vartan Baronian
Flag Text: Ben Koorengevel
Text Extract and Coat of Arms Graphic from: http://www2.ville.montreal.qc.ca/script/php/frameE.php?target=/portail_VME/accusoma.shtm