Baronet of Montreal
Sir Henry Vincent Meredith, 1st Baronet (and last), of Montreal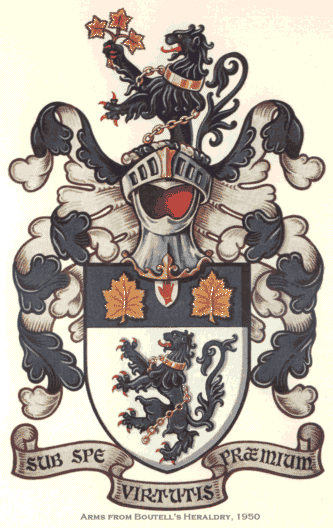 Coat of Arms of
Sir Henry Vincent Meredith
Baronet of Montreal
In 1916, the British Empire created a Baronetcy for Sir Henry Vincent Meredith. He was titled as the Baronet of Montreal. Sir Henry lead a very distinctive career as President of Bank of Montreal, a Director of the Canadian Pacific Railway, a Govenor of McGill University, and President of the Royal Victoria Hospital in Montreal. He passed away in 1929 without any heirs. As a result, the Baronetcy (Baronet of Montreal) became extinct.
The heraldic description for Sir Henry's arms and Baronetcy are as follows:
Arms: Argent, a lion rampant sable collared and with a chain reflexed over the back Or; on a chief of the second two maple leaves Or.
Crest: A demi-lion sable, collared and chained as in the arms, holding in the dexter paw a sprig of maple Or.
Graphic and research from:
http://www.hereditarytitles.com/Page51.html